New Musical Express OCTOBER 13, 1973 - by Nick Kent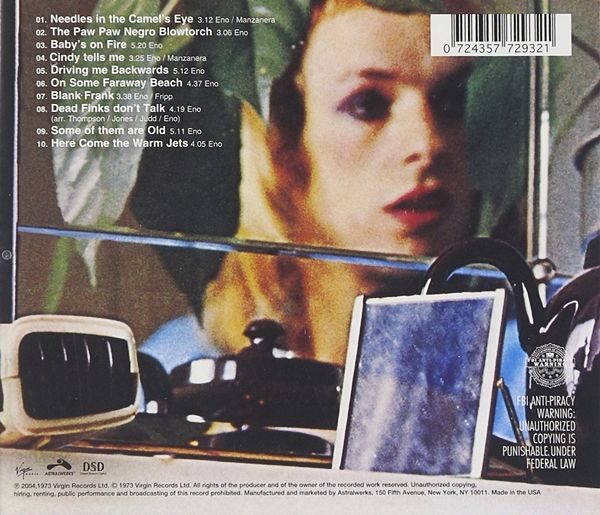 Being an account of the latest recorded work of Mr. Brian Eno, late of Roxy Music, and featuring Blank Frank, friend of the Massive Mario.
Clapham, that exotic part of town where folk of differing creed and colour mingle suitably inebriated with natural joie de vivre, will soon gain immortality not merely because yours sincerely has taken up residence within its sacred borders but also because it has set the scene for some of the more intriguing music-weaving to take place of late throughout the recording studios of London.
Down at Majestic Studios, just round the corner from the bingo hall, Brian Eno, that zany purveyor of wit and sparkle, has set about the completion of his awesome solo album project.
Up in Studio 2, surrounded by such diverse tacky objets d'art as a saw hung on the wall beside a speaker and a number of fake potted palm trees, Eno is leaping around like a dervish setting up the tracks for a song called either Blank Frank or Friend Of The Massive Massimo or Blank Frank, Friend Of The Massive Massimo, aided and abetted by Simon King, drummer of Hawkwind, Bill MacCormick, bass player of Matching Mole, and two engineers.
A basic track has already been laid down using rhythm-box, primitive Enoid guitar thrashing and one of the most demented guitar solos ever to be conceived in a respectable recording studio.
The person responsible for the latter piece of wizardry is no less than Robert Fripp, whose studious fingers are performing arguably their most dynamic work to date on these sessions, away from the self-imposed restrictions of King Crimson.
Blank Frank is in fact quite a masterpiece. Bo Diddley meets Ghengis Khan with backwards guitars, a Fellini-type fairground organ sound manically chiming in half-way through and changing the whole track completely, and ethnic Javanese clapping.
Above all this inspired mayhem our hero is heard to chant with machete-like precision ominous tidings about Blank Frank being the messenger of one's doom and destruction and how the aforementioned's skill is disposed in leaving bombs in people's driveways.
If you consider that to be "un peu bizarre" then get an earful of Baby's On Fire, which sounds warped and extremely perverse, complete with more tortured Fripp guitar-picking and the quaint chorus about how baby's on fire and it's necessary to throw him in the water.
Or Here Come The Warm Jets, a more conventional piece which sounds like a 1970s equivalent of Telstar. "It's about pissing," stated Eno with no small measure of pride. Of interest to Eno afficionados, the maestro plays the guitar that he was photographed posing with on the cover of For Your Pleasure.
It was less than three days after I'd visited young Brian at the studio that I was informed he had collapsed from exhaustion and malnutrition, and been banished to hospital.
Publicist Simon Puxley muttered earnestly that his acolyte was suffering from numerous traumas based on his lack of rest. "He needs someone to take care of him," quoth the Pux.
A stout-hearted fellow like Brian Eno forced into a state of collapse through lack of care and attention? Preposterous, I though. And, jiggers, my contention was right, for not long afterwards I discovered Eno working away steadfastly at Advision studios with arch-looner Lloyd Watson.
"I thought it was very amusing when I read in big letters 'Eno Collapse - Malnutrition.'"
So what actually happened?
"Well I was in the studio one night and I went to sit down on what I thought was a chair situated directly behind me, and then discovered that the chair in fact wasn't there."
Oh!
Eno was busy listening to Lloyd Watson's slide guitar embellishments on Some Of Them Are Old, a slow number built around a tune not unlike that gracing Buddy Holly's Raining In My Heart but made more stately by an intricate Andy MacKay saxophone arrangement.
"It's my least favourite track, at the moment," he muttered nonchalantly before animatedly reciting some of the already-recorded goodies.
Of particular merit is Dead Finks Don't Talk on which he's backed by a couple of The Sharks and Paul Thompson on drums. The pianistics and bass-playing are quite superb, as are the lyrics - which are all about how being a zombie takes such dedication, and other pressing matters.
Needles In The Camel's Eye features Velvet Underground guitar thrashing synthesized through a metal gauze of sound. Possibly the most commercial number of all those recorded so far and the probable choice for a single.
On Some Faraway Beach is yer olde wistful ballad, with strange chords and even stranger lyrics.
By the time you read this, the album, the title of which is tentatively Here Come The Warm Jets, should have been completed. Eleven or twelve tracks are expected to be present, including Driving Me Backwards, Trunk and The Paw Paw Negro Blowtorch.
If all goes as well as it should do, the finished product should not only vindicate Eno from being yoked under his current image - that of just another outrageous poseur possessing little talent - but also stand out as one of the very few truly creative projects in rock to appear in a long time.
As I left the studio, Eno was writing out makeshift lyrics for Needles In The Camel's Eye - "All the best lyrics are written in ten minutes. Ha, I'll show you, Roxy Music!"