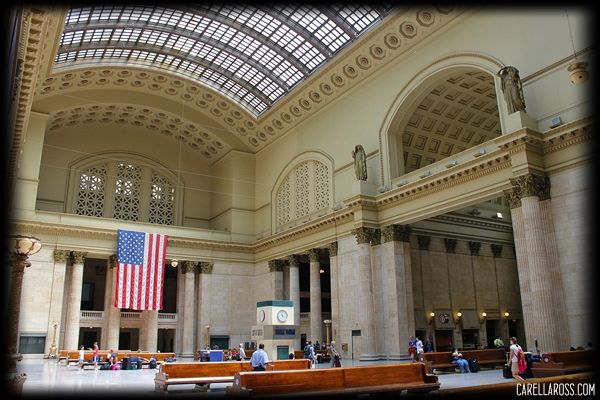 [2012]
i remember in mid September 2012 i had a release date for the Waxworks in the White Hell album. i always militantly obeyed those deadlines. they served as a barrier that worked for me. i usually released things on Saturdays because of the internet and the mass of weekend warriors that hits the web on that day. on Friday morning i had 9 tracks completed. Name Tag Hostess was supposed to be the 1st track but i just felt i needed one more to round out the collective or serve as a more potent audio welcoming committee. so that day i wrote and recorded Missionary Y, uploaded the master to the web where the rest was ready to go, published it so it was live for the next morning, and then pocketed my last $100 and went out and got drunk for my birthday that whole weekend in Chicago. in fact after the multi-day-night party was over my phone had died and i could not get ahold of anyone so i spent that Sunday night sleeping in Union Station. i only had the money left for the train. i had to move around each hour to evade the security lady. in the morning after i finally road the train to my makeshift studio out in suburban nowhere land i threw my sleeping bag on the floor, slept off my hangover til Tues, and when i woke up and checked my music sales account there was another $1500 in it and that's just how i was livin' at the time. there was no master plan. it was just do the work, put it out, and the rest will be what it will be. the so-called "rewards" had little bearing on the process. the process is was and will always be the process good bad profitable or not (or otherwise). it's one part be the machine or factory and one part hustle. that's primarily why i stopped working with other people and all their schedule restrictions and everyday life limitations. it was never personal. it's just what had to happen.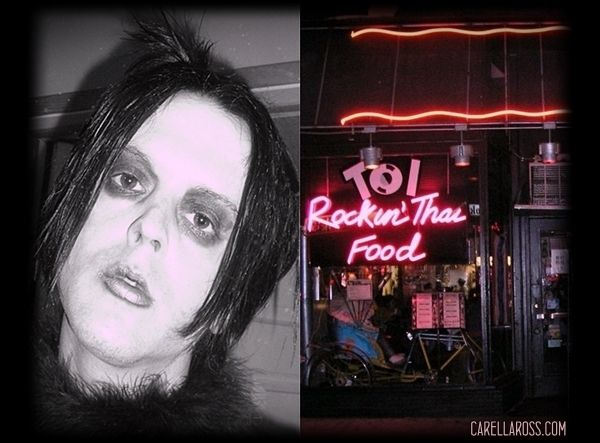 [2006]
i would work the door at Toi on Sunset sitting on my bar stool eating lemon chicken until 4AM. drink beer & sake until 7-8 with a few people....usually with something like a Rammstein live in Berlin or Rock n Roll High School DVD blaring on the projection screen. and then go find any one of the rat holes up and down Sunset (as long as it had old curtains that were thicker than armour and a TV remote bolted to the synthetic brown paneling end table with a chain) to crash. the pic of me feels like it's either the Sahara next to 7th Veil where the hooker neighbor would be a bit more refined or its uglier bitch sister the Hollywood Center Motel. can't remember which but it's time for another stint at a few of those places ==> SOON (minus the Toi part)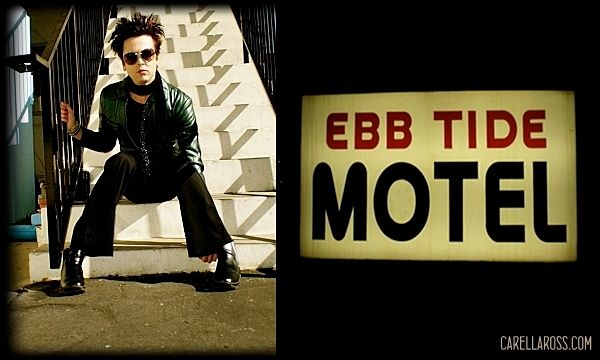 [2009]
this was a low point in some ways.  i was broke from Strap-On Sweetie as well as the writers and actors strikes that had been going on since late 2007. i wanted a break from Hollywood and the endless chaos that had ensued there in the couple years before this.  my brother Chris has lived in Ocean Beach CA since the late 90s so that is why i was familiar with the area.  the Ebb Tide is infamous.  it's located in an area locals refer to as the War Zone which is ironic since the Pacific Ocean is its (literal) backyard.  it should have been a tranquil break in the action for a while but it ended up being anything but due to too much booze and not nearly enough productivity.  i recorded the vocals to Strap-On Sweetie's covers of Ministry's Everyday Is Halloween and The Beatles' Strawberry Fields Forever in the bathroom of that apt in between being a physical and emotional mess.  there were fun times as well and that's also when i really started painting.  i definitely miss the pugs and the dog beach and the pier and being able to roll down the street to my brother's place whenever i wanted.  Lady Gaga's The Fame and Sparks' Kimono My House always remind me of those early months of 2009.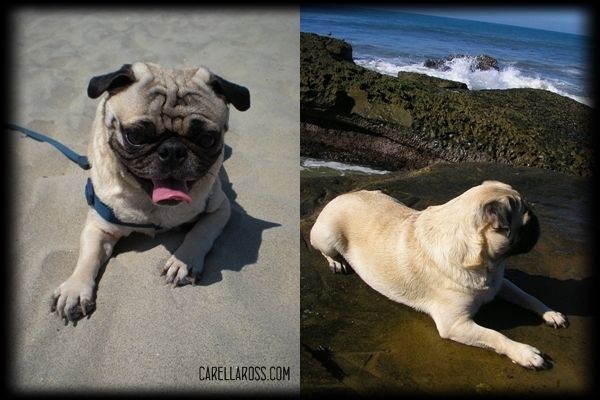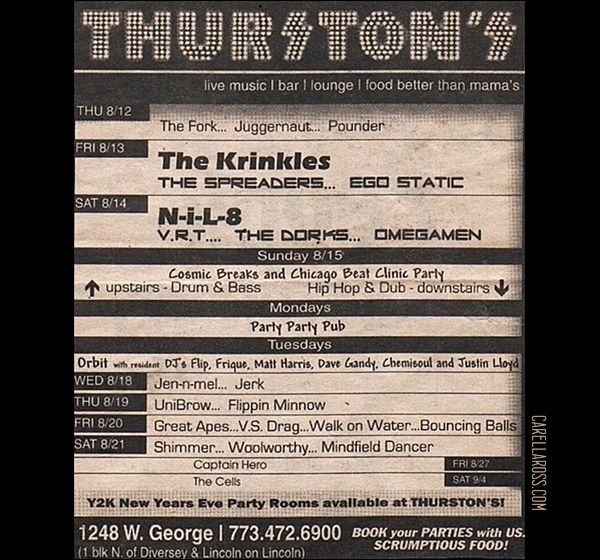 [1998]
Thurston's in Chicago.  this was the 1st Egostatic show (before the name became one word) which is why we're opening for 2 horrible bands i can barely remember.  this was Paul's band for the most part.  Egostatic would go on to have a variety of lineups.  in the original one i played keyboards and guitar.  Amy from Plastic Princess played bass.  and Jeremy played drums. along with sharing band members Egostatic and Plastic Princess shared a practice space in Amy's parents' basement.  they were always so great to us. beyond the band itself one of the specific statements one would hear at the time was "people will never give up their CDs for MP3s".  we did not fully grasp yet how absolutely false that notion would turn out to be.  this was before Turbovulva.  you can find some Egostatic HERE some Plastic Princess HERE Paul's latest project Deveraux HERE and the infamous fetish model Razor Candi who snagged her name from an old Plastic Princess song Razor Candy HERE.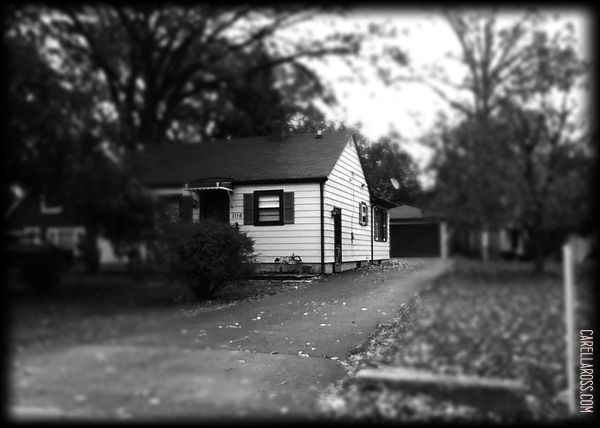 [1987] 
1116 State Street in Aurora IL.  in the summer of 1987 in this basement is where i really learned to play.  although of course i spent countless hours working it out in my bedroom at home this is where we had a couple shitty guitars, a couple shitty amps, a shitty drum kit, and a classic boom box to record the atrocities Paul (of Marilyn Manson & Deveraux) and i would produce.  i drove by there recently to snap this photo.  i almost thought i was on the wrong street for a moment.  everything seemed small and quiet and so far removed from the sprawl of Hollywood and Chicago and Las Vegas and Warner Bros. Studios and the lives we've lived and all the endless crazy shit we've seen since then.  this must be what seeing the ghost of a long-lost dead relative is like.  Paul added guitar & piano & other textures to Our War Experience the 1st track on the Mrs. Produkt - Chapter Five (Mia Lux & The Daughters) album.